As an adoption consultant, I have a front-row seat in watching God's plans unfold for amazing couples, just like John & Molly. A few questions I often ask families inquiring about our services here at Christian Adoption Consultants is, "What led you down this path? What brought you here?" I will never forget the sheer vulnerability that poured from Molly's heart when she answered those questions. There was not a dry eye on the phone. As Molly shares below, their adoption story did not pan out as they expected it would, but God did not waste their wait. He never does. Molly and John, it was an honor to assist you on the journey to your beautiful baby girl!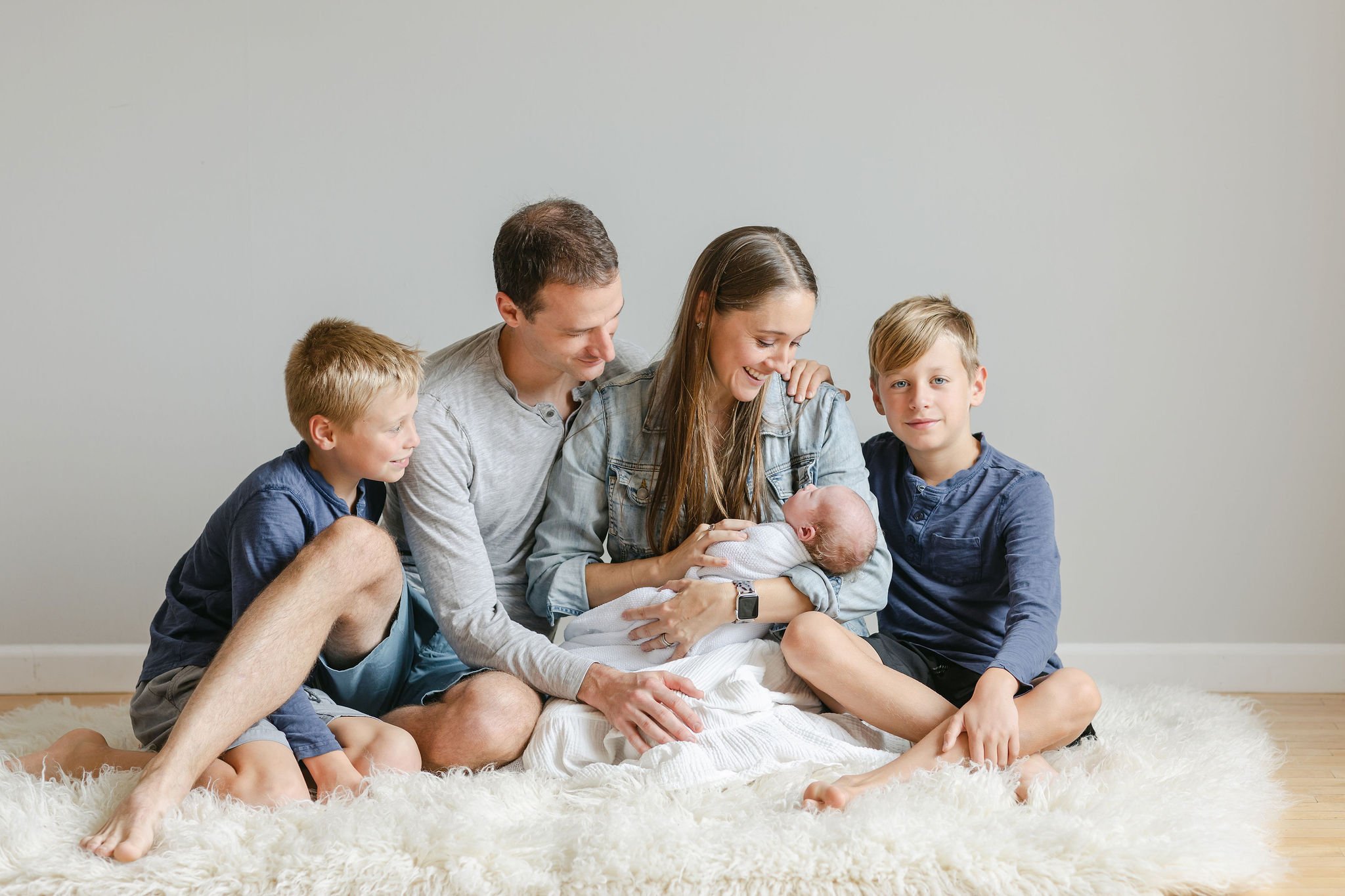 As far back as when I was a 12-year-old little girl, I remember being somewhat aware of the topic of adoption. I had a cousin who was adopted, and the thought of adopting was planted in my heart. Fast forward many years later, and the topic of adoption came up again. My husband and I welcomed twin boys. During my labor, I had very serious complications that eventually led to me not being able to have any more biological children. I brought the topic of adoption up to my husband, but at the time, he was not on board. This conversation continued to happen over many years. I still felt the tug of adoption on my heart, but my husband just wasn't feeling the same way. I continued to pray over and over that the Lord would either change my husband's heart or mine. It was the year 2020 when I first saw my husband's heart change. That fall, he came up to me and said, "I'm ready." And thus, we began our journey to adopt.
I knew from the get-go that I wanted to work with an adoption consultant. The world of adoption felt overwhelming and confusing. I wanted someone who could help guide us along the way and pray for us. I had heard of CAC in my research, and I reached out to them for more information. We were immediately set up with an informational call with Kelly. After asking a few questions, I knew this was the route I wanted to take. We quickly signed up to work with Kelly, and we are so thankful we did.

I'm not going to sugarcoat it, the process was tough-mentally, emotionally, and spiritually. Even though I tried to prepare myself for how hard it was going to be, there is just nothing one could do to totally prepare for what it is going to be like. From the Home Study paperwork, the tough conversations you have to have as a couple, to the rejection you feel when you are not picked by a birth mom-it's just difficult. There were so many times I had to surrender everything to God and choose to praise Him despite feeling defeated.


Everyone always tells you that "waiting" is the hardest part and it's true. In my head, I thought our wait would be quick. In every case that we would present, we couldn't help but get our hopes up. "Maybe this is the ONE," I would think to myself. I would begin to envision how our family would change, how I would prepare for the baby, etc. And then when we would get the email. "I'm sorry, the expecting mom has chosen to go with another family." All those dreams came crashing down. I would allow myself to be sad about it for a while. I didn't know how not to be sad when not chosen. I knew that I trusted God, but that didn't make it any less sad for me.
Throughout all the ups and downs, Kelly was always there to lend a listening and comforting ear. She would pray for us when we were frustrated. She would encourage us when we were down. I can't tell you how much this meant to me during all the hard waiting times of adoption. She was also there to answer the numerous questions that would arise during this time. Each agency is so different and so there are always things that we would run past Kelly when we were unclear about something. She was quick to reply and always so patient with us.

During our time of waiting, we just kept reminding ourselves that God was in control. That HE knew what was best for our family and that we would trust him with that.
When we first read about our daughter's situation, we felt excited but also kept our excitement at bay. We were drawn to the case, but we had learned from past experience that nothing is a sure thing. We told the agency that yes, we wanted to be presented. The day I got the call was the day after Mother's Day and the day before our twins' birthday. I remember looking at my caller ID and seeing a state listed, and it was the same state as the agency where we presented. My heart immediately started beating faster. I remember the person from the agency telling me that we matched, and I immediately started crying. It felt surreal! I was elated, excited, nervous, happy, all the emotions! I immediately face timed my husband at work, and he could tell just by looking at my face that I was calling with great news. We were both just so excited! I then made the calls to some of my dear friends who had been praying for us for such a long time on this journey. Their joy was palpable!

We matched with our daughter's Birth Mom in May, and our daughter was due a few months later. We immediately started to plan a time when we could meet our daughter's Birth Mom. I was, of course, nervous and excited. What would it be like? How would the conversation go?  It was very neat because I had immense peace on the day of the meeting. I felt a sense of calm, and I know it was because we had so many people praying for us.  When we arrived to meet her, I immediately gave her a hug. I'm a hugger, so I told her that, and she smiled and gladly hugged me back. It was so neat to have dinner with her and her family. The conversation just flowed. My heart just felt so much peace and happiness.

Fast forward a few months, and it was the end of July. We had just hung out with some friends that day and got home in the evening. I heard my phone ring, but I missed the call. I went to get it and immediately saw that the call was from our social worker. I looked at my husband and said, "It's baby time; I just know it." I called the social worker back, and she told me that, yes, our birth mom was in labor. Cue the adrenaline spike! At this point, it was 8:30 pm, and we had a 10 hr drive ahead of us. I already had a bag packed for the baby, but we still had to pack ourselves. We rushed around, called our friend to come and stay with our boys, and then called my parents so they could come and stay with the boys until we could return.
We had been invited to attend the birth, d we weren't sure we were going to make it. All the while, we were receiving updates from the social worker. It became clear that we weren't going to make it for the birth. Although disappointed, we knew it was out of our hands. Our social worker was great at sending us updates. We got the text at around 4:00 am that our daughter was born! We couldn't wait to meet her!

When we got to the hospital, I remember slowly walking into the room and seeing our daughter in that little hospital bassinet. She was starting to wake up and fuss a bit, so I asked if I could hold her. I scooped her up and just stared at her precious little face. I couldn't believe that after all the years of prayer and longing, I was holding my daughter. My heart could burst. I was so happy. I remember looking at her and thinking, "You are the one we have prayed for all of these years." I also remember thinking, "God, you are so so good."

We are so thankful that we have an open adoption with our daughter's birth mother. That was something that was very important for our daughter's Birth Mom and us as well. We communicate very regularly via text. We also facetime occasionally and will see her around the time of our daughter's first birthday. We want our daughter to know how loved she is by her Birth Mom! The fact that she is in our lives and can tell her that as she grows up is so amazing!
This process definitely taught me a lot about trusting God and surrendering my plans to Him. I, of course, had the perfect idea of when it would be ideal to match. And while it didn't go badly, it definitely took longer than I thought it would. This process really taught me to not only say I trusted God but showed me how to trust God. With every "no" we got, I had to surrender that plan or dream to God and say, "I don't understand, but I trust you, God." That was really hard. But it grew my faith and taught me to surrender my plans for His.

No one can really prepare you for the ups and downs that come with this journey. You can read every blog or every story, but just know yours will be unique to you. My advice would be not to have timeline expectations on when your match will happen. Make sure you and your spouse talk through how you're doing emotionally and mentally throughout the process. My husband and I dealt with disappointment in this journey very differently, and that was hard at times. I would also encourage you to have a support system. Share with your friends and family so that they can pray for you. Prayer is huge during this journey and very needed. There were many times I wanted to give up, or I was emotionally exhausted, and it was because of prayer and encouragement from friends and family that we were able to keep going. My other piece of advice sounds so cliche, but it's true. Trust God along the process. You may hear some hard "no's," but trust God that this is not the child for your family.
Professional Photos by Tiffany Brubaker Photography
---

***If you are interested in learning more about adoption and the services we provide at Christian Adoption Consultants, I would love to chat! Email me, Kelly Todd, at kelly@christianadoptionconsultants.com to request a FREE information packet!***